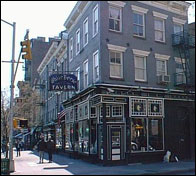 In 1997 ItriCorp was hatched in the White Horse Tavern in lower Manhattan.
Two brothers, Art and Jim, were trying to tell stories. They needed conjured images of far away places, train and plane schedules, architect's drawings of grand buildings, and access to other friends in far away places who could verify the details and add to the story.
But all the tools and props of good story telling weren't available.
"Why not?"
The answer, "Because we didn't put them there yet."
We've been working on it since then.
How many other things that we encounter in life are looking for a solution to make it easier and more fun?